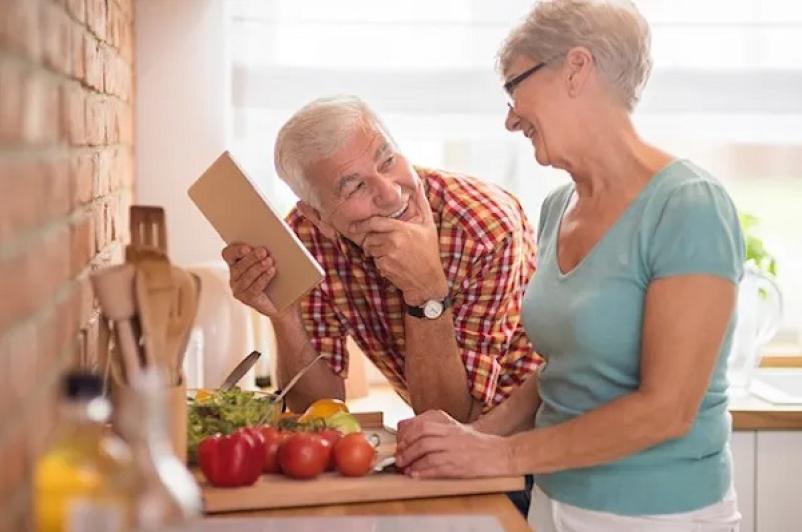 Healthy diet is important in battle against colorectal cancer
March 06, 2023
March is both Colorectal Cancer Awareness Month and National Nutrition Month, a great time to combine your efforts to prevent the progression of colorectal cancer. A healthy diet can go a long way in helping you avoid this potentially deadly form of cancer, and good eating will enable you to live healthier overall.
Excess body fat is one of the strongest factors increasing the risk of colorectal cancer, according to published research and cancer and nutrition experts at UHS in Greater Binghamton. Eating whole grains and foods containing fiber lowers that risk. Consuming processed meats and high amounts of red meat, as well as drinking two or more alcoholic beverages a day, can increase the risk of developing this type of cancer. Daily moderate physical activity has been shown to reduce the risk.
Colorectal cancer is the fourth deadliest cancer in the United States. Every March, National Colorectal Cancer Awareness Month spotlights this disease and inspires more people to get checked.
The U.S. Preventive Services Task Force recommends that adults aged 45 to 75 be screened for colorectal cancer. The decision to be screened between ages 76 and 85 should be made on an individual basis. If you are older than 75, talk to your doctor about screening. People at an increased risk of getting colorectal cancer should talk to their doctor about when to begin screening (which may be earlier than age 45), which test is right for them and how often to get tested. It is important to know that if your test result is positive or abnormal on some screening tests (stool tests, flexible sigmoidoscopy or CT colonography), a colonoscopy test is needed to complete the screening process.
Screening can find the warning signs of colon and rectal cancer, letting doctors take action to prevent the disease, according to UHS clinicians. Screening can also find colorectal cancer early, when treatment is most effective. One in 24 people will be diagnosed with colorectal cancer in their lifetime, but you can make a difference for yourself today. Learn about ways to build awareness and get information and testing recommendations from your provider, by clicking here.
National Nutrition Month is an annual campaign created 50 years ago by the Academy of Nutrition and Dietetics. During the month of March, everyone is invited to learn about making informed food choices and developing healthy eating and good physical activity habits. Learn more about the Nutrition Services UHS offers by clicking here.
This year's theme is "Fuel for the Future." Eating with sustainability in mind is a tasty way to nourish ourselves during every phase of life and protect the environment. A registered dietitian can help you create healthy habits that are sustainable and celebrate your unique needs. An overall healthful dietary pattern has the potential to lower cancer risk by 10 to 20 percent. The association between diet and cancer incidence varies by cancer sites and also by sex, but the recommended components of a healthy diet are often similar.
Here are a few dietary tips that can help with cancer prevention:
Limit alcohol consumption: There is strong evidence that consumption of alcoholic drinks increases the risk of cancers of the mouth, pharynx and larynx, esophagus, liver, breast, colon and rectum.
Eat a diet rich in whole grains and vegetables: Make whole grains, vegetables, fruit and pulses (legumes), such as beans and lentils, a major part of your daily diet. There is strong evidence that eating whole grains and getting enough dietary fiber protects against weight gain and colorectal cancer.
Limit your intake of "fast foods": Fast foods are readily available convenience foods that tend to be energy-dense and are often consumed in large portions. Most of the evidence on fast foods is from studies looking at burgers, fried chicken, French fries, and high-caloric drinks (containing sugar, such as soda; or unhealthy fats, such as shakes).
Limit red and processed meats: Red meat includes all types of muscle meat from a mammal, including beef, veal, pork, lamb, mutton, horse and goat. Processed meat has been transformed through salting, curing, fermentation, smoking or other processes. In a study, the risk of colorectal cancer increased by 16 percent with every 50 grams a day of processed meat intake, and by 12 percent with every 100 grams of red meat intake. Poultry and seafood are generally considered more healthful sources of protein. Very little, if any, processed meat should be consumed.
Limit sugar-sweetened drinks: There is convincing evidence that consuming sugar-sweetened drinks is a cause of weight gain, overweight and obesity in both children and adults, especially when consumed frequently or in large portions. Obesity increases the risk of many cancers.
So, taking steps to eat right today can be the best fuel for your own future.
Watch our Facebook video to learn more about colorectal cancer prevention and how to improve your nutrition and health.