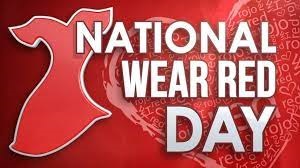 National Wear Red Day
People around the country and in the Southern Tier will don something red on Friday, Feb. 3, to call attention to heart disease among women, as the nation observes "Wear Red Day," part of the "Go Red for Women" awareness campaign.
UHS is joining with the American Heart Association to mark the event, featuring a ribbon-cutting ceremony starting at 10 a.m. in the main lobby of UHS Vestal. Red sweaters, dresses, scarves and ties will be in abundance.