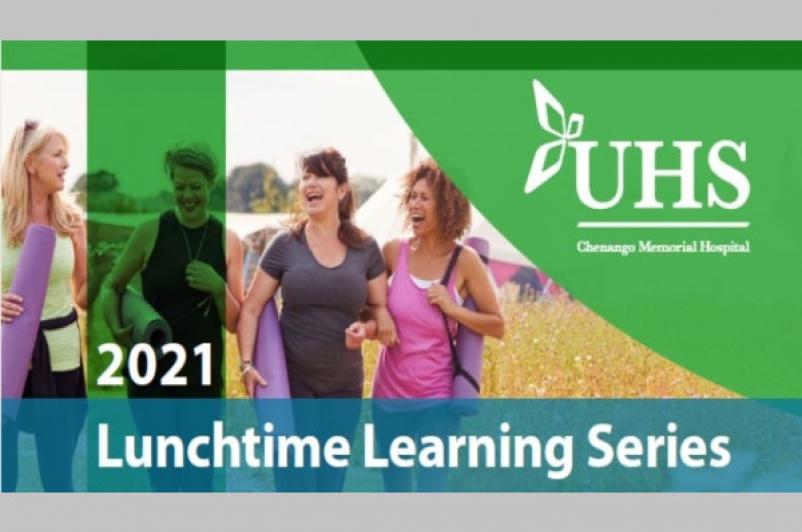 Next CMH Lunch & Learn series Installment to focus on PMR & GCA
June 09, 2021
Dr. Aditya Pawaskar from UHS Rheumatology will present Tuesday as part of UHS Chenango Memorial Hospital's 2021 Lunchtime Learning Series.
The program, happening on Tuesday, June 15, is the third installment of the hospital's new virtual lunch-and-learn series, will focus on Polymyalgia Rheumatica (PMR) and Giant Cell Arteritis (GCA).
According to Dr. Pawaskar, both of these inflammatory disorders - one of which affects structures around major joints and the other the arteries – are fairly common in the Northeast. However, they are not always well-recognized or treated effectively, which can increase patient suffering.
"More awareness of these conditions is essential," he said.
The two conditions, which at times appear together, are among a wide array of chronic conditions the rheumatologist treats in his Vestal practice.
"No two days are ever the same in Rheumatology," Pawaskar said.
It's that variety, as well as the satisfaction of designing an effective treatment plan for his patients, that drew him to both medicine in general and then to specialize in Rheumatology.
"I feel happiness in helping people, and medicine is a great way to help reduce someone's suffering, both physical and mental," he said. "My favorite part of my job is reaching the correct diagnosis and treatment, and seeing patients feel better and healthier."
When offered the opportunity to present as part of the series of virtual health conversations, Pawaskar welcomed the chance to educate and inform on conditions that may not have the same name recognition as others, such as rheumatoid arthritis or lupus.
"My job is to make my patients' lives better and to reduce their pain or suffering, and I will always strive for that," he said. "I am happy to involve my patients in this process, and also explain complex medical concepts and problems to them in a simple way so that they can understand what is actually going on and what the best thing to do to improve their health going forward."
According to Chris Kisacky, Vice President of Service Delivery and Development at UHS Chenango Memorial Hospital, Pawaskar's presentation is a perfect fit for the new series, which strives to create a forum for individuals to learn from experts in their field, while also getting to know members of the medical staff outside of the exam room.
As a result, she said, patients and caregivers can have a more open dialogue with their provider, and ultimately better manage their chronic disease over time.
Kisacky has attended each of the events in the series to date, and said she is already registered for the June 15 presentation.
"It's wonderful to see Dr. Pawaskar's passion for his patients and his specialty," she said. "I'm not as familiar with this particular topic as I am some of the others. I'm looking forward to learning more, as well as getting to know Dr. Pawaskar."
The 45 minute presentation, which will be conducted via Zoom, will start at 12:15 p.m. on Tuesday, June 15. Those interested in attending can register by calling 337-4183 or emailing melissa.stagnaro@nyuhs.org.
Future installments in the series will include a presentation on Gout and Pseudo Gout by Rachel Lu-Do, MD, on July 6; and a presentation on Osteoporosis by Nicole Osterhout, NP-C, on July 27.
For more information on UHS Chenango Memorial's 2021 Lunchtime Learning Series or to register, call (607) 337-4183 or email melissa.stagnaro@nyuhs.org.
UHS Chenango Memorial Hospital is a member of United Health Services, a locally owned not-for-profit 916-bed hospital and health care system serving the Greater Binghamton region from more than 40 locations around New York's Southern Tier.