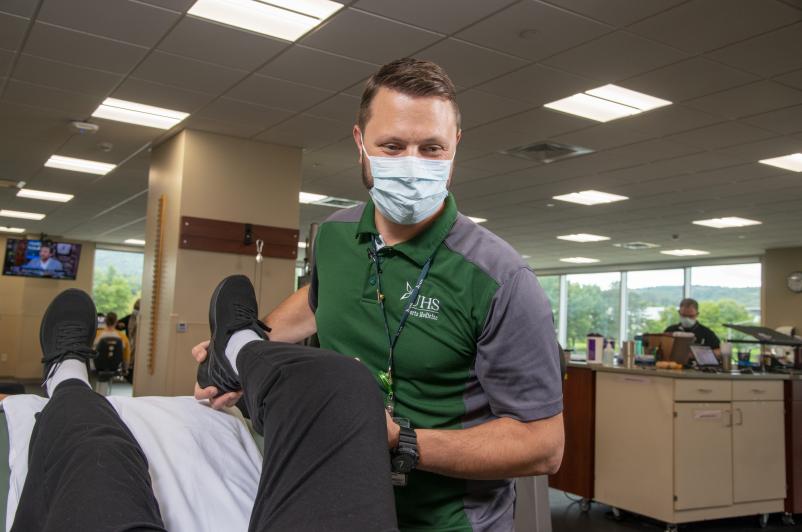 How Physical Therapy helped one patient find her balance
October 01, 2022
Physical therapy changes lives. During National Physical Therapy Month in October, UHS is pleased to recognize these rehabilitation superheroes who help patients move more easily, feel better, and adapt to life after an accident, injury or other event.
According to the American Physical Therapy Association, physical therapists improve quality of life through hands-on care, patient education, and prescribed movement, offering the best first option for many symptoms and conditions. Using the expertise gained from formal training and experience in patient practice, physical therapists develop treatment plans specific to each patient's body, lifestyle and goals.
Roseann Scheddin, 79, of Vestal, needed physical therapy to address low back pain and poor balance. "I was playing tug of war with my great-grandson and fell. Sometimes you forget how old you are and you start doing things!" she said. Her two-month program this spring and early summer included gait training, proprioception work – understanding the body's positioning and movement -- and core and lower extremity strengthening.
This was Scheddin's first experience with physical therapy, and she was pleased with its benefits: "My balance improved, and there are things I can do now that I couldn't before. My therapist Dominic [Dominic DiMascio, PTA], was understanding, caring and professional."
After her discharge from physical therapy, Scheddin graduated to a weekly strengthening program called the Bone and Joint Performance Class. These sessions -- led by strength coaches and athletic trainers -- focus on continued bone and joint health through exercises that incorporate strengthening, mobility, and balance training.
This is just one example of how Physical Therapy helped improve a patients life. Make sure to thank your Physical Therapist for what they do to help every day.