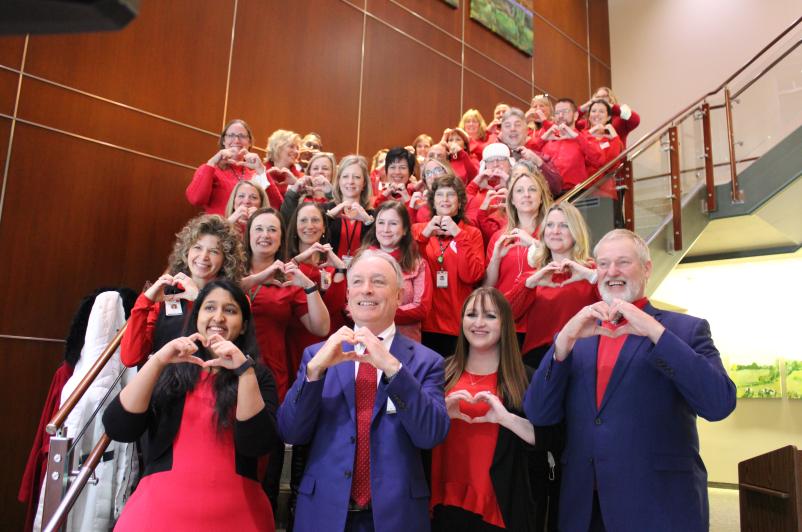 Employees go red to support Women's Heart Health
February 03, 2023
UHS employees across the system are wearing red Friday, February 3 to support women's heart health and National Wear Red Day!
National Wear Red Day encourages awareness of the issue of women and heart disease, and also action to save more lives. The movement harnesses the energy, passion and power women have to band together and collectively wipe out heart disease.
On "Wear Red Day," a major event held on the first Friday of each February, organizers at the American Heart Association urge people of all ages and walks of life to wear red for the day in support of the women in their lives - their wives, daughters, mothers, sisters and others.
And don't forget to sign yourself up for the 2023 Southern Tier Heart Walk to support team UHS and the American Heart Association. Click here to register.
Based on research, a woman who "Goes Red" does the following:
Follows an exercise routine
Eats a healthier diet
Visits her doctor for important tests
Influences others by talking about heart health
The campaign is designed to make women and their loved ones more aware of the wide range of signs and symptoms that can signal an impending heart attack in a woman.
These may include:
Chest pain, either intense or mild
Pain in the shoulder, arm, neck, jaw or back
Shortness of breath
Lightheadedness or nausea
Unexplained anxiety, weakness or excessive sweating
You can see photos from across the UHS System below: