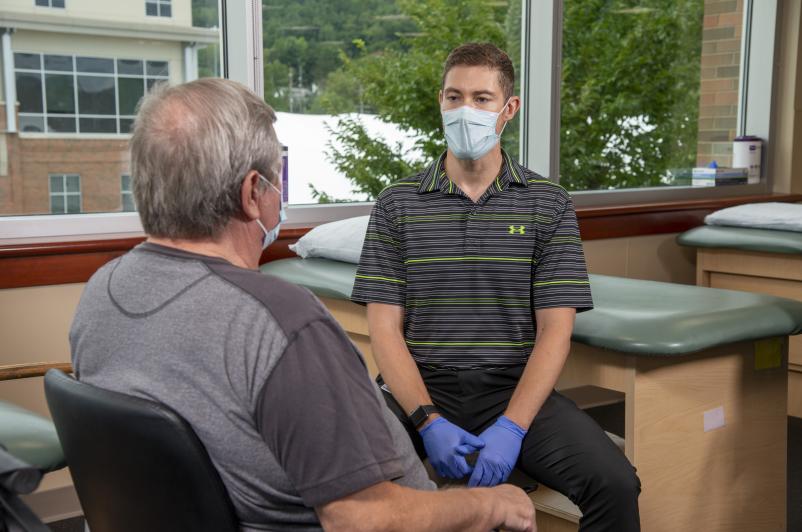 How Physical Therapy got one player back in the game
October 21, 2022
Physical therapy changes lives. During National Physical Therapy Month in October, UHS is pleased to recognize these rehabilitation superheroes who help patients move more easily, feel better, and adapt to life after an accident, injury or other event.
According to the American Physical Therapy Association, physical therapists improve quality of life through hands-on care, patient education, and prescribed movement, offering the best first option for many symptoms and conditions. Using the expertise gained from formal training and experience in patient practice, physical therapists develop treatment plans specific to each patient's body, lifestyle and goals.
Aubrey Marroquin, 16, a senior at Chenango Valley High School, plays on her school soccer team and on a travel team based in New Jersey. In late March 2022, she injured her left anterior cruciate ligament, which was repaired with surgery on April 12. Marroquin started physical therapy a week later, going two to three times a week through August. She credits her UHS physical therapist Dominic DiMascio, PTA, for motivating her mentally and physically through the process.
Unfamiliar with physical therapy before she needed it personally, Marroquin gained an understanding of its value: "I wanted to be able to jog in two months and Dominic helped me accomplish that. He knew I could do all the things that I thought I couldn't -- he helped me get over that mental block. I'm now pain free and stable, and have a greater range of motion."
By the time she completed therapy, Marroquin was able to jog, squat, walk, jump, and kick a soccer ball. She currently participates in UHS's bridge program for strengthening twice a week with UHS athletic trainer Garvin Taylor. This program "bridges" the gap between therapy and returning to play, and helps patients achieve personal therapy goals. These higher-level sessions are an hour long and involve running, jumping, squatting and lifting. For Marroquin, the focus is on strengthening her quad muscles and other ACL injury-prevention workouts.
Said Marroquin, "UHS' whole physical therapy program is great. The environment is welcoming and everyone is always so supportive. I'm so happy I chose UHS for my physical therapy -- I know they'll get me back to BETTER than I was before. My next goal is playing soccer in college, and I'll be able to do it pain free."