Schedule your vaccination appointment online!
Are you due for a Flu, COVID-19 or Shingrix (shingles) vaccine? You can now schedule an appointment online! The UHS Specialty Retail Rx Vaccine Clinic is located at UHS Binghamton General Hospital, Krembs First Floor.
Please note there are three designated 15-minute parking spaces available. Questions? Call the clinic at (607) 422-3846.
Schedule an Appointment >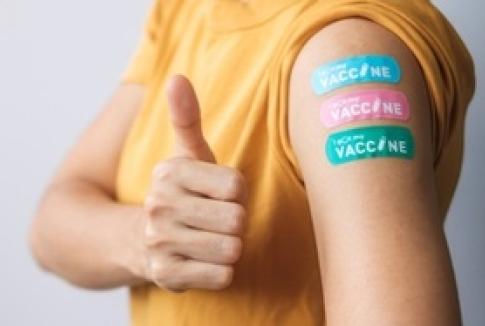 COVID-19 Vaccine & Booster Information
Getting a COVID-19 vaccine is the best way to protect yourself from the novel coronavirus and its potentially devastating effects.
Who is eligible to get the COVID-19 vaccine?
Pfizer-BioNTech
(Fact Sheet)
Age 6 Months+ Eligible

When to get the new COVID omicron-targeted booster
With the rise of COVID transmissions in our communities once again, we now have a new and powerful tool in the battle against this deadly virus. The CDC has recently approved a new booster that is designed to lessen the severity of COVID, with a specific formula targeting the omicron variant. It will help protect against this newest variant but also has some of the older ingredients to help protect against other possible strains that arise in the future. For more information, and to view a chart to see which booster is right for you, please click here.
Schedule an Appointment
UHS offers COVID vaccines by appointment at our primary care offices.
Our providers are always glad to answer questions you have about any vaccine and schedule a timely appointment for you or your family members.
To schedule an appointment online for the Binghamton General Hospital pharmacy location, click here.
Due for a Booster dose?
Schedule your booster shot the same way you would schedule your initial doses.
UHS Chenango Memorial Hospital Vaccination Site
Appointments may be scheduled through any Primary or Specialty Care practice, or by calling the CMH Vaccine Line at (607) 337-4888.
UHS Delaware Valley Hospital Vaccination Site
Appointments may be scheduled by calling the UHS Primary Care - Walton at (607) 865-2400.
NYS COVID-19 Vaccine Scheduling
New York State Tiered Distribution of the COVID-19 Vaccine
Click here for distribution details.
Schedule Your Vaccination Appointment Now!
*Due to significant call volume, assume there will be time spent on hold.
How to replace a lost vaccination card/information from NYSDOH
There are three ways to retrieve vaccine information. Unfortunately the state does not replace vaccine cards.

1. You can try the Excelsior Pass online by entering vaccine information: https://epass.ny.gov/home
If they cannot get your excelsior pass, they can use this contact info to put in a ticket:
Please use this form if you require assistance for your Excelsior Pass. https://forms.ny.gov/s3/Record-Review-Request
You can also reach out to the Excelsior Help Desk at 844-699-7277 from 7 a.m. to 10 p.m. daily.
2. Send a message to the NYSIIS help desk and they can mail a vaccine record to a patient.
The NYIIS link is not public, so please send an email to Covid19Vaccine@health.ny.gov and your request will be forwarded.
3. Your Primary Care provider can provide a copy of your vaccine records.
Frequently Asked Questions
To see Frequently Asked Questions on the New York State COVID-19 Vaccination website, click here.